It took forever, but gem-compare hits 1.0!
What is gem-compare, you ask? gem-compare is a RubyGems plugin that can compare gem versions. I originally created it to vet new gem versions I packaged for Fedora, but it's useful for all kinds of tasks. The main use-cases for gem-compare are:
checking accidental permission changes
checking for files that shouldn't make the release
checking for unwanted dependency changes
tracking license changes
reviewing new code
Have you heard about the npm package that wiped out people's disk space based on geolocation? gem-compare can help you prevent bad upgrades in the Ruby eco-system.
Usage
After installation (that needs curl header files), you can start comparing:
$ 

gem 

install 

gem-compare


$ 

gem compare rails 6.2.0 7.0.0 

-k



The -k option will keep the gem files if you need to work with them.
By default all kinds of comparisons are run, but you can specify what you need:
$ 

gem compare 

--help


Usage: gem compare GEMNAME VERSION 

[

VERSION ...] 

[

options]

  Options:
    

-a

, 

--all

                        Show every comparison
    

-k

, 

--keep-all

                   Keep downloaded and extracted gem files
    

-n

, 

--no-color

                   Do not colorize output
        

--platform

 PLATFORM          Specify the platform of gem to compare
    

-p

, 

--param

 PARAM                Compare only a given paramater
    

-r

, 

--runtime

                    Compare only runtime dependencies
    

-d

, 

--development

                Compare only development dependencies
    

-f

, 

--files

                      Compare only files 

for 

runtime
    

-F

, 

--diff

                       Diff file contents
    

-g

, 

--gemfiles

                   Compare only Gemfiles
    

-b

, 

--brief

                      Include only important changes 

in 

the report
    

-s

, 

--sources

 SOURCES            Use different 

source 

URIs 

for 

gems 

(

separated by comma

)



Note that you can compare as many versions at once as you want.
What's new
gem-compare stayed long time at 0.0.7, but last weekend I updated the project for RubyGems 3.x and finally released 1.0. And that's not everything, because 1.0 brings a nice new feature which I want to highlight.
It's now possible to compare whole file diffs with the --diff option: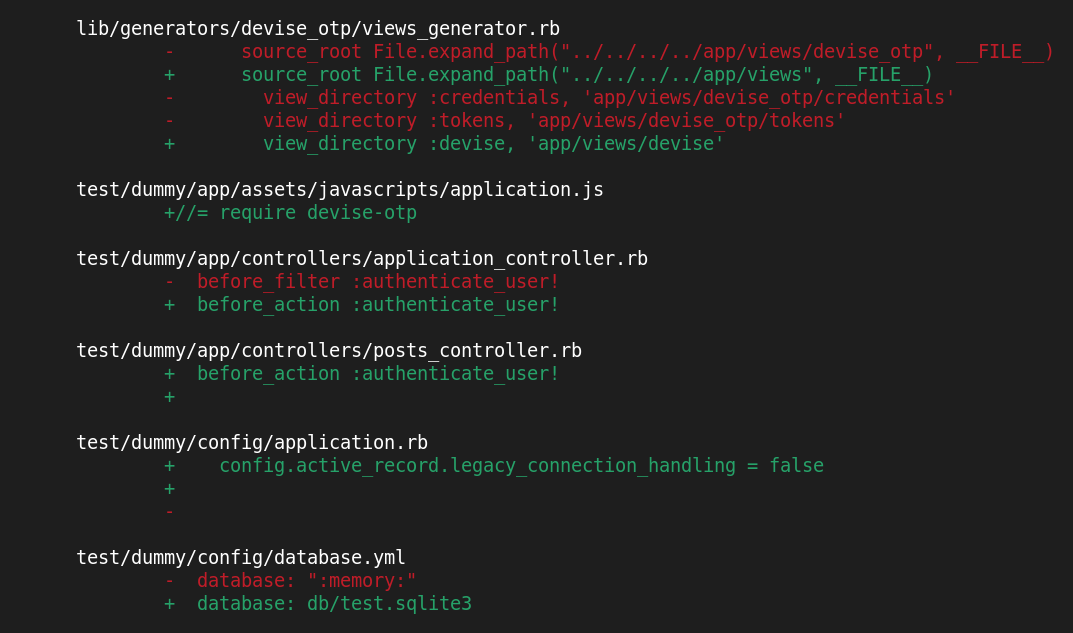 GitHub
So go ahead and make gem-compare part of your release and upgrade workflows :). Contributions welcome.
Any comments? Write me a direct message at
@strzibnyj.